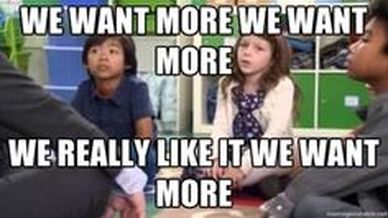 We have 25,000 new myeloma patients each year in the USA and more than 100,000 living with myeloma, yet the nearest thing we have to Big Data is the COMPASS study by the MMRF. This is a great first step, and it will follow 1000 newly diagnosed patients through their myeloma journey. Prior to this initiative we had no data other than clinical trial data to compare how a patient's personal myeloma profile might be affected by different treatment regimens. So this study is and will continue to be, a Big Data breakthrough for the myeloma community. But like the cell phone commercial, "We Want More!", and now we get more. Celgene has a 3000 patient study called ConnectMM. Jim Omel has been part of a team sponsored by Takeda Pharmaceuticals on a new myeloma Big Data initiative to follow 5000 patients called INSIGHT-MM. In Jim's own words:
INSIGHT-MM An Observational Study

Treatment for multiple myeloma (MM) has changed significantly in the last few years. Four new drugs were approved by FDA in 2015 alone and we are quite fortunate to have so many therapeutic options. Along with these successful treatments come many questions regarding outcome results and quality of life. How will newly approved monoclonal antibodies change practice patterns and outcomes? How will all-oral therapies affect patient's quality of life, and will there be any effect on treatment efficacy? How will quality of life and treatment outcomes for USA patients differ from patients in other countries where several of our MM drugs are not currently available? When exciting checkpoint inhibitors become more available, how will their single or combined use improve results? It is imperative that we have new treatment outcome data to guide both patients and doctors with therapeutic decisions. What we knew as recently as only two years ago will soon be 'old news' in myeloma.
"Interventional" studies offer patients active therapeutic approaches leading to better outcomes. "Observational" studies unobtrusively observe patients for treatment effects without intervening or directing their treatment in any way.
There have been several helpful observational studies in the past few years, studies which have accrued their required number of patients and are currently "maturing" data. Some of these include CoMMpass, an MMRF study for 1000 patients, Preamble, a BMS study for 1000 patients, and ConnectMM, a Celgene study for 3000 patients. None of them will have relevant data for Elotuzumab, Ixazomib, or Daratumumab approved in November, 2015 or checkpoint inhibitor therapy, all of which represent the future of successful myeloma treatment. It is vitally important to learn how incorporating these new agents will help MM patients.
INSIGHT is a multiple myeloma outcome observational study for 5000 patients officially added to ClinicalTrials.gov in May, 2016 (NCT02761187). It follows contemporary, real-world presentations, therapies, and clinical outcomes in participants with MM. Patients will not change their clinical treatment based on any INSIGHT guidelines whatsoever. To evaluate their quality of life they will be asked to complete a patient self-reported outcome (PRO) survey at home or during routine visits. INSIGHT is fully IRB-approved, open at several sites, and has already accrued its first patients!
This multi-center study will be conducted worldwide. In addition to participants from the United States INSIGHT will accrue MM patients from Germany, United Kingdom, France, Italy, Greece, Belgium, Brazil, Mexico, China, Israel, Spain Taiwan, Colombia, and Turkey. Participants will be evaluated and followed for a period of at least 5 years, until death, or the end of the study, whichever comes first.
The goal of this ambitious undertaking is to accrue 5000 patients over 3 years and follow their various treatments and outcomes for 5 years (an 8 year study estimated to be complete in July, 2024). It will be open to (1) participants who have newly diagnosed multiple myeloma, and (2) participants who have relapsed/refractory multiple myeloma. The overall inclusion goal is 50% for each sub-type of patient. USA will open 50 accrual sites comprised of 40% academic centers and 60% community centers. Outside the USA global enrollment for 3000 patients is planned with 5-10 sites in each participating country. INSIGHT is truly global is scope!
Electronic case report forms will be filed quarterly by health care providers. MM patients will complete Health Related QOL and PRO (Patient-Reported Outcomes) every 6 months and at any significant change in ongoing treatment.
None of the care of these patients will be impacted by INSIGHT, because treatment decisions will be made totally independent of the study. Every effort has been made to avoid treatment bias by patients or their doctors. Poorly designed observational studies can cause surprising treatment bias if release of early trial findings influences ongoing treatment decisions by patients or doctors.
Those of us at Myeloma Crowd strongly encourage participation in this important study. Please enroll if you are asked and you are eligible, and please encourage other MM patients to support this non-interventional clinical trial as well. The more information we share, and the more new outcome data we accumulate, the faster we will control and cure multiple myeloma.
Thank you,
Jim Omel MD
Good luck and may God Bless your Cancer Journey. For more information on multiple myeloma survival rates and treatments CLICK HERE and you can follow me on twitter at: https://twitter.com/grpetersen1