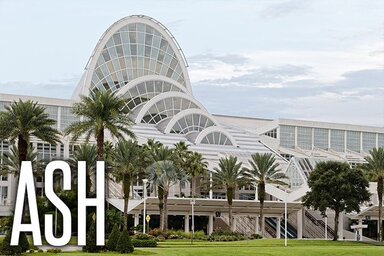 Myeloma Had An ASH Kicking In Orlando This Year!
I had an opportunity to attend the ASH(American Society of Hematology) annual conference this year in Orlando from 12/6 to 12/10, and came away with the feeling the future of myeloma treatment is excellent! These are my top line takeaways.
– Myeloma has a tight knit community of researchers, myeloma specialists, patient advocates, drug companies, and myeloma organizations like the IMF, MMRF, LLS, and Myeloma Crowd. They use Twitter and Facebook as communication tools which provides real time information to the myeloma patient community. There are more than 24 major categories of blood diseases represented at ASH, and myeloma was frequently listed in the top 10 of ASH twittter online influencers. Given myeloma is one of the the 24 major diseases, you would expect them to have less one top influencer in the top ten, but they had between 6 to 10 of the top 10. Just remarkable!
– Each new class of drug which is approved has resulted in an increase of one year in life expectancy. We just had one new drug approved, Selinexor. We also have 7 drugs which have a high probability of approval. These are the ones with at least two FDA designations like Orphan Drug and Fast Track. Effectively the ones the FDA finds fill an unmet need and have the most potential, kind of like the Teachers Pets of drugs. CAR T, BiTE's, ADC's, AWC, melflufen, multi target CAR T, CLR131, allogeneic CAR T and many more, are all new classes of drugs which bodes well for current and future patients life expectancy. I estimate a minimum of 6 new classes of drugs approved for myeloma which, if history repeats itself, would take the current NCI, national average life expectancy, for all patients from 6 years to 12 years. The 15% who consult or see a myeloma specialist which now have a life expectancy of 10+ would likely see to exceed 16+ years.
– When Daratumumab was approved in RRMM(Relapsed Refractory Myeloma) it had been approved with an ORR(overall response rate) of 24% and a PFS of just 1.9 months. Daratumumab has been moving to early stages of the disease, and in combinations with EVERYTHING! It seems "Things Go Better With DARA"! These new combination with Darzalex are exhibiting exceptional resultsl. At this year's ASH we have new drugs which have shown better initial results in heavily pretreated patients who have also failed Darzalex. The newly approved Selinexor had an ORR of 26% and twice the PFS at 3.7months. A drug in clinical trial, GSK2857916 has an ORR of 38.5% in patients who had previously been treated with daratumumab, and a PFS of 7.9 months This is 4 times more effective than the Darzalex PFS! The big question is how will these and all the new classes of drugs perform when moved to earlier in the disease process. I think the sky is the limit!
– A big finding for me was a repeated use of the phrase "treatment used as a Bridge". At end stage myeloma, patients are often too sick to qualify for clinical trials. If treated with one of the end stage drugs like Panobinistat, Selinexor, or many other combinations the disease may be able to be controlled enough to make it into available clinical trials.
– Treatments for early stage myeloma have shown excellent results, For example high risk smoldering myeloma has a 50% chance of progressing to full blown myeloma each year, however an all oral clinical trial of IRd (Ninlaro, Revlimid, dex) had a 0% chance of progressing in the first 30 months or 2 1/2 years. Many such trials for high risk smoldering myeloma are in process. Soon the question will be how do we screen the population to catch myeloma in the precursor stages. This may reduce or eliminate the devastating end organ damage associated with finding myeloma in the later stages of the disease progression. The future looks bright!
The House Has Passed A Bill Which Should Help Patients To Get Access To Life Saving Drugs! BUT!
This is great news for the myeloma patient community. Cost is important, however the critical feature to the patient is ACCESS TO LIFE SAVING DRUGS!
The Congressional Budget Office estimates that the proposal would reduce Medicare drug costs by $500 billion over 10 years in three major ways:
· It would allow Medicare to directly negotiate prices for up to 250 of the mostly costly drugs that have no competition from generics or biosimilar drugs. Companies that don't negotiate would be subject to an excise tax of up to 95 percent on gross sales.
· The US prices of those drugs would be tied to a benchmark index of prices in other developed countries.
· And, for all drugs, manufacturers would have to rebate back to Medicare any price increases that exceed the rate of inflation.
The most significant element of the bill for drug access is the capping of out of pocket and co pay for Medicare at $2000 per year. Currently there is no out of pocket maximum limit. Most all newly diagnosed myeloma patients usually have a treatment regimen including Revlimid, and the copay would be $2600 for the first month. Under the House plan it would be limited to $2000. Great news, if is was not for the fact 50% of prescriptions with a co pay over $2000 are abandoned at the pharmacy. I believe Senate bill allows this to be spread across the entire year. So what is the BUT?
The BUT is the house passed it on Party Lines, and President Trump, who supported the idea of negotiating drug prices during his presidential campaign, now strongly opposes the House Democrats' bill for part D. The measure will likely die in the Senate, where Majority Leader Mitch McConnell (R-KY) may block it from ever coming to a vote.
The Senate has a bill which the president will likely back BUT is absent one of his initial major objectives to negotiate Medicare, and Medicaid oral drug prices. This bill well likely be rejected if voted on in the House. The concern in the Senate has to do with the thought this would limit new drug development. Private insurance companies negotiate prices now, as do all single payer programs throughout the industrialized nations of the world. It is also the talking point all the drug lobbyists are spinning! It is known that 8 in 10 American's feel Medicare should be able to negotiate drug prices. BUT the measure does not address the problem copays are always computed as a percentage of the list price and should include provisions to make copays a percentage of the negotiated price. Under the existing system if the cost of a drug is negotiated down by 50% the copay would remain the same. Our entire economy is based on negotiating price and trying to get a better deal by leveraging buying power or "The Art Of The Deal". The USA has 4.3% of the world's population, but is estimated to be 45% of the world's total prescription drug spending by Reuters in 2021. As President Trump has noted the world gets a free ride. Like China's predatory trade practices, this must STOP!
This is a very complex problem which requires far more of a discussion than I can discuss here. I plan on providing a multi part You Tube broadcast which I will title "The BS Report".
Good luck and God Bless your Cancer Journey/ editor@myelomasurvival.com
For more information on multiple myeloma CLICK HERE and you can follow me on twitter at: https://twitter.com/grpetersen1