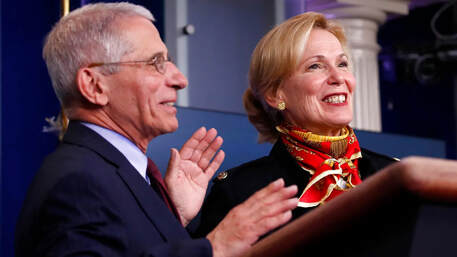 The COVID19 DREAM TEAM
Like everyone who is in the high risk populations for death from the CORONA virus, myeloma patients have heightened resistance to going to the hospital for fear of getting exposed to the virus. Unfortunately, this is heightened by the findings, 40% of all infections are caused by asymptomatic carriers, and the average death rate for COVID19 positive Americans is 5.9% but over 30% for myeloma patients.
I have tried to practice what I preach and follow the guidelines which #birx and #fauci have recommended. Until recently you could not get a virus test unless you were symptomatic and had a doctors order, and it was not covered by Medicare. This has now been changed and is covered by Medicare, and I have since gotten both the virus test, and the antibody test(courtesy of myeloma crowd). I do not have the virus or the antibodies to the virus, so I still remain vigilant. It would be nice if I had the virus and recovered but with a death rate of 30%, the best approach is to stay virus free until a vaccine or cure is found and available to all.
I have been putting off surgery for a hip replacement for years, but it is now bone on bone and just too painful. It was originally scheduled for April 22nd but was canceled by Mayo because of the pandemic. Talking with my doctors they believe now is the time for treatment because we are over the curve and going down, but with the opening of the country we will likely see another wave this fall and winter.
I have had insurance issues trying to get pain medications. Tylenol is no help, and I can not take NSAID's because I have myeloma caused kidney damage. I could take a topical NSAID cream which does work and is easy on the kidneys, but BCBS of Florida has turned it down 3 times. Their response is I have to take oral NSAID's first, but I have told them oral NSAID's would damage my kidneys and put me back on dialysis. So we all have this Question Of Balance. We all have to weigh the risks vs. the benefits of our health care decisions. Is the risk of getting COVID19 significant enough to cancel the surgery?
I chose to be pain free. I will be going to Mayo in Jacksonville, and the Mayo system has a number of safety measures and procedures in place. So I come to the conclusion, I have minimized the risks, will use a N95 mask at all times, keep my distance if possible, and sanitize hands and things I touch frequently. I asked a number of questions and found out the OR staff have all been tested for the virus, all patients are tested before surgery, all nursing staff are masked and surveyed for fever or symptoms, as are food service personnel, and there are two separated areas, COVID and non COVID, where staff never crosses over.
I think I am making the correct choice, but we all must answer our own "Question of Balance"!
Good Luck and May God Bless OUR myeloma journey. For more information on multiple myeloma CLICK HERE and you can follow me on twitter at: https://twitter.com/grpetersen1
A Question Of Balance by the Moody Blues
WHY? Just because I like it!