Although CAR T has just made it to the clinic after more than 10 years of being studied in ASH abstracts, the explosion in the number of new CAR T abstracts bodes well for many more FDA approvals. If you look at the data from the 2018 abstracts you can see an almost identical explosion in abstracts for Antibody Drug Conjugates (ADC). The graph which follows shows the beginning of the same exponential growth which was exhibited by the growth in CAR T abstracts.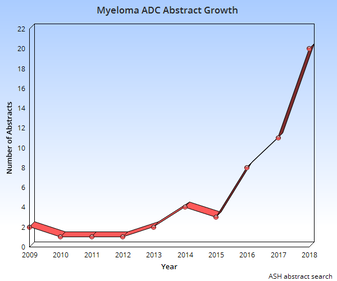 Antibody Drug Conjugates (ADCs) are monoclonal antibodies (mAbs) attached to biologically active drugs by chemical linkers. By combining the unique targeting of mAbs with the cancer-killing ability of cytotoxic drugs, ADCs allow sensitive discrimination between healthy and diseased tissue. Some patient friendly articles on ADCs can be seen if you
CLICK HERE
or
HERE
.
A lot has been written about ADC's recently, and some of the most interesting revolved around the new Glaxo Smith Kline ADC GSK2857916. This drug has shown twice the the Overall Response Rate (ORR) than did Daratumumab as a single agent in clinical trial. GSK2057916 had a ORR of 60% and Darzalex had a 29% ORR. At the time 29% was a giant leap forward.
Not to be left behind Daratumumab has been turned into a AWC(Anitbody Warhead Conjugate) by the biotech company
Actinium Pharmaceuticals, Inc.(ATNM) This AWC showed a 10 fold improvement in myeloma cell death in vivo vs. Darzalex alone. Finally, Takeda has a new CD38 antibody called TAK-079 and they are partnering with the biotech Molecular Templates(MTEM) to manufacture what they call a ETB(Engineered Toxin Bodies). All use the same technique to link a toxin to an antibody with a linker.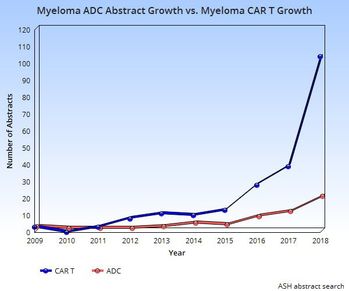 ADC is on the same trajectory as CAR T was just 3 years ago. If you look at the graph to the left, ADC is tracking identical to CAR T and we can expect to see continued exponential growth for ADC abstracts with FDA approvals to follow.
Targeted therapy has been touted as the future of cancer treatment, but not until recently have we had such a rush of new developments. Large companies like GSK, Takeda, and Jannsen, small companies like Juno and Kite, and micro companies like Actinium, and Molecular Templates are changing the course of myeloma treatment more focused on the myeloma cancer cell target. If Cytoxin and Melphalan are the shotgun approach to cancer care, CAR T and ADC are the one shot one kill approach to care!
Good luck and may God Bless your Cancer Journey. For more information on multiple myeloma survival rates and treatments CLICK HERE and you can follow me on twitter at: https://twitter.com/grpetersen1