Ten years ago, when I was diagnosed, there were few drugs available and no common understanding of what treatment was best for different patients. Revlimid and Velcade were not approved yet and every myeloma specialist (people who treated a fair number of myeloma patients) could agree on very little. One transplant vs. two, what drugs to use and in what sequence, and should one drug be used at a time or a combination?
However today I believe "We have come a long way baby!" The IMF conducted a symposium on Friday titled "TREATMENT ADVANCES IN MULTIPLE MYELOMA: EXPERT PERSPECTIVES ON TRANSLATING CLINICAL DATA TO PRACTICE."
The expert panel included Dr. Rajkumar, and Dr. Shaji Kumar from Mayo Clinic, Dr. Philippe Moreau of France, Dr. Jesus San-Miguel (seem to be the character of the bunch), and Dr. Bruno Pavia, both of Spain. The program was moderated by the president of the IMF Dr. Brian Durie.
Case studies were presented and the panel and audience would vote on a number of ways to treat the case. What became obvious was that the panel consistently gave the same answers, whereas the audience answers were not nearly consistent.
This could lead me to only one conclusion: the myeloma specialist are finally obtaining a consensus opinion on treatment but the general hematologist/oncologist (audience) has not yet reached the same level of congruence. So one of the most significant takeaways from the three hour symposium was the templates which were presented for both newly diagnosed and relapsed/refractory myeloma. This template is much like a Cliff Notes version of mSmart the Mayo Clinic template for treatment. You will note the newly diagnosed slide below.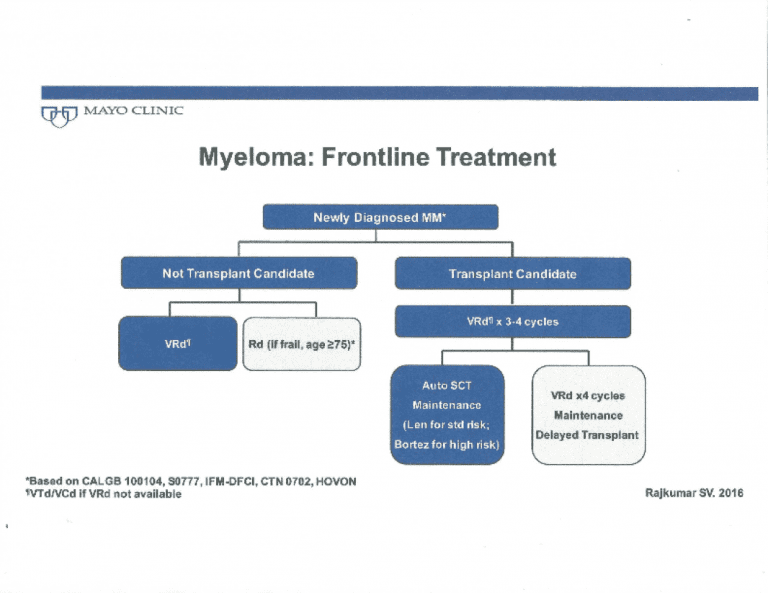 This is just one of the slides which shows a greater consensus view of early treatment from some of the most talented myeloma specialists in the world.
Now if we could just get this knowledge to become "common knowledge" then most every myeloma patient would have a life expectancy twice the current national average.
So it is today, but more important than 10 years ago to find a myeloma specialist to a treatment plan, which may be implements by your local hemotologist/oncologist.
Dana Holmes has recently provided her logic in a facebook post. Because it is so well written, I will post it seperately. She is writing it to her smoldering myeloma facebook group, but I would argue it is even far more critical if you have active myeloma, or are in your second or greater relapse.
Good luck and may God Bless your Cancer Journey. For more information on multiple myeloma survival rates and treatments
CLICK HERE
and you can follow me on twitter at:
https://twitter.com/grpetersen1