If you are like most of the myeloma patient community, you will not be attending the large conferences where the best myeloma specialists in the world congregate and discuss the current and future treatment options. So how do we find out about the best and most promising current and future treatments presented at these meeting? One way is to follow the action at the conferences through myeloma focused twitter, Facebook, and other online options. However, I have found that some people have a better perspective than most, and they are the myeloma specialists who attend these meetings.
So recently, Dr. Joseph Mikhael offered to provide a myeloma specialist's view on the best of the best for ASCO(American Society of Clinical Oncology) 2019. Dr. Michael is not just any myeloma specialist, but is the Chief Medical Officer of the International Myeloma Foundation. He is tasked to advance the mission of the IMF in research, education, advocacy and patient care to improve lives of patients with multiple myeloma.. The IMF is the oldest and highly respected patient focused myeloma support organization. Therefore Dr. Mikhael provides an invaluable perspective and has an outstanding perspective for the CURE TALKS myeloma broadcasts. The Broadcast is scheduled for 6/5/19 at 4PM EST. You can sign up for this broadcast and enter questions for Dr. Mikhael if you CLICK HERE!
Dr. Mikhael has provided a summary for ASH(American Society of Hemotology) 2018 which was just 6 months ago. ASH and ASCO are two of the largest conferences where myeloma has a significant representation. I have provided a 4 minute snip-it of his ASH experience, and you can expect a full hour of his expert opinion for ASCO19, and have the opportunity to ask your questions for the last 15 minutes.
Another myeloma specialist, Dr. Michael Thompson of Aurora Heath Care, Milwaukee provided an excellent summary of the best of the best abstracts of ASH 2018 last December. Prior to ASCO 2019 Dr. Thompson has provided a similar summary. If you would like to do some pre CURE TALKS research I am providing his excellent summary below.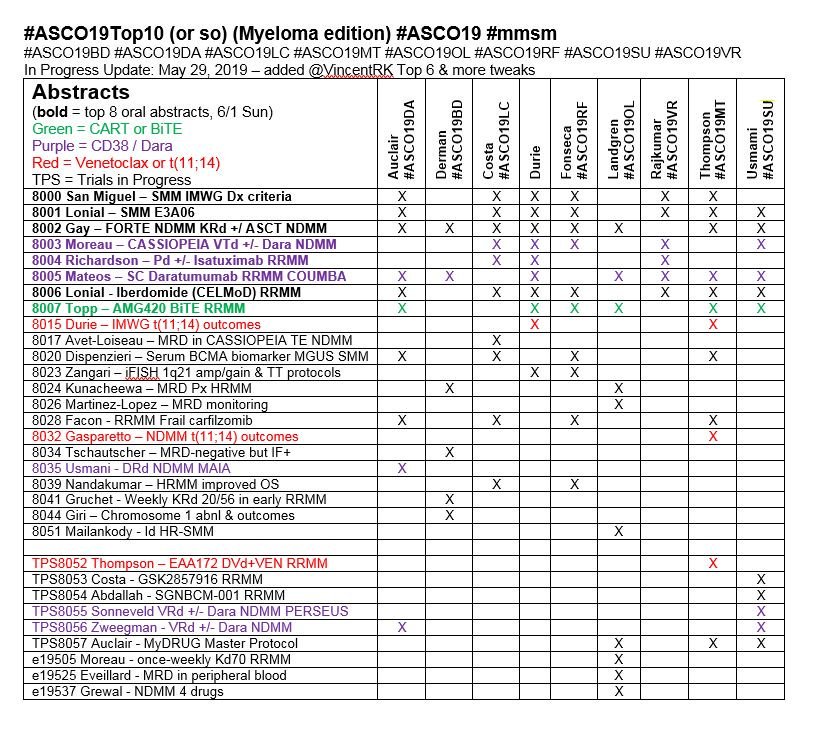 If you might notice, even the experts do not have a unanimous consensus on any one abstract. So it will be very interesting to find out what the IMF Chief Medical Officer feels to be the most significant ASCO findings. Good luck and God Bless your Cancer Journey/ editor@myelomasurvival.com For more information on multiple myeloma
CLICK HERE
and you can follow me on twitter at:
https://twitter.com/grpetersen1