Maria's Story
by Francesca Saraco
Before I begin, I'd like to say that everyone's journey with multiple myeloma is very personal to them. Not only is the disease unique in the way that it expresses itself within the patient, but everyone's path to diagnosis and treatment is unique to them as well. I use the word 'journey' in Maria's story instead of 'battle' because in my mind, the word 'battle' implies that the patient had a choice in fighting; when in reality multiple myeloma chose them. It is my hope that Maria's story guides your journey and inspires the fire within to seek the best possible care for yourself or for someone you care for.
It was a hot, sticky June evening as my brother and I drove to Pearson Airport in Toronto, Ontario Canada with to pick my Mom up after a 6-week pilgrimage in Portugal, Italy, France and Spain with her church group. It was a dream trip for her. She was finally able to pay a visit to her beloved Lourdes in Portugal. I remember thinking how proud I was of her for traveling solo. We had lost my dad suddenly to an aortic aneurysm only a year prior. Although she had dreamed of retiring and traveling with him, she pushed herself to see the world on her own. As she got into the car, she kept complaining of back and chest pain. She was prone to bronchitis so we didn't think much of it and proceeded on our journey home.
A week later, (June 11th 2017) she was still complaining to me about the the same back and chest pain. After much back and forth, she asked me to drive her to urgent care. When we arrived they checked her heart with an echo-cardiogram, gave her a chest x-ray and ordered routine blood work. Time passed and the pain persisted.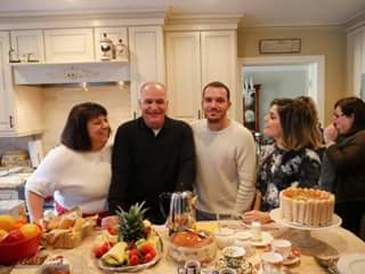 Mom and Dad on the left during Happy Times
From June to August, Mom and I bounced around from doctor to doctor. We went to urgent care for 4 visits, and each time Mom received the same gambit of tests: an echocardiogram, chest x-ray and blood work — all which came back clear. One morning, the pay was so bad I called 9-11 and we were taken to the emergency room by ambulance. There, a doctor prescribed her a dose too high of Percocet to subside the pain. Later that evening, she began showing signs of an overdose (sweating, hallucinations, vomiting) and back we went to urgent care. For many weeks she saw an an acupuncturist, physiotherapist, sports medicine doctor, and her family doctor in an effort to diagnose and relieve her pain. Week after week, the pain kept worsening.
I would often come into the kitchen and find her doubled over on the island trying seeking relieve of her back ache. We tried pain creams, hot pads, ice packs and massages. Nothing worked seemed to work. My brother and I would come home to find her biting on towels, sobbing and screaming in the middle of the night — the pain in her back has become beyond unbearable. At times, I remember thinking to myself that she was exaggerating. My logic would reckon with me and say: if all the doctors said she was fine, she HAD to be fine, didn't she?
After a 3rd visit, a student doctor at her family physician's office sent her for a spinal x-ray and found a fracture in her vertebrae. Finally, this was the answer we had been waiting for! Now her recovery could begin.
I left to Los Angeles the last weekend in August to visit my boyfriend who was working there at the time. Earlier that week, my boyfriend's aunt had connected my Mom with an orthopaedic surgeon for a second opinion regarding her spinal fracture. We anxiously awaited the results of a CT scan she was scheduled to receive. I hadn't heard from my Mom much that weekend (which was unusual for her) but figured she was probably resting her back. As I was packing to fly home, my boyfriend pulled me aside and said he had something to tell me: my Mom had lost feeling in both her legs, she was at the hospital and about to undergo back surgery — they had found a tumour in her spine.
I couldn't believe it. I fell to the ground and sobbed. For 3 months a tumour had been growing inside her. 3. Whole. Months. How was this possible after having seen upwards of 12 doctors?! How was no one able to figure out that something was seriously wrong!? Shocked, dismayed and frantic, I landed in Toronto and immediately drove to the hospital to see my Mom. She was recovering from her surgery and in good spirits. The tumour compressed her spinal cord from the T5 vertebrae to the T7 vertebrae. She told me they would have to biopsy the tumour but, being the devout woman of faith she was, prayed it would be nothing. We remained positive and hoped for the best.
I still remember where I was when I got the call. It was September 7th, my brother's birthday. I was at work in one of meeting rooms, I was staring out the window taking in golden glow cast upon the trees by the late summer light. My phone rang, it was our family friend. The moments that follow would change our lives in ways we could have ever imagined.
"Francesca, I don't know how to tell you this but your Mom has cancer. It's a bone marrow cancer called multiple myeloma. Apparently, the doctor says it's very mild said something along the lines of: 'if you're going to have cancer, it's the best one to have' because people can live with it for years.'"
I hung up the phone. The room was silent but my mind was frantic and buzzing. I kept thinking: "Cancer? How could this be?" I took comfort in the fact the doctors said it was mild, treatable and she could live with it. Just a little chemo and she'll be fine. She had to be fine. My brother and I needed her to be fine.
Shortly after the call, my rampant research on multiple myeloma began. I read countless articles, journals, case-studies, blogs and personal anecdotes online. I connected with my old roommate who was a newly-graduated physician and another physician that was a friend of my Mom's. I asked question after question to anyone that would listen. In my mind, knowledge was the best tool I had at my disposal over something I had absolutely no control over. In the absence of my dad, I became Mom's primary caregiver and I made it my mission to control what I could: the care she received.
Mom started chemo in October 2017 after 5 rounds of radiation, and was placed on a regimen called known as CyBorD; a 3-drug cocktail comprised of cyclophosphamide, bortezomib and dexamethasone. At the time, she was placed in an intensive rehab unit where she began learning how to walk again while simultaneously undergoing chemotherapy. Her walking was coming along amazingly — in a matter of weeks she was standing, marching on the spot, peddling on a wheelchair and taking steps on the parallel bars. The myeloma on the other hand, was resistant to the regimen.
Mom's oncologist called me at work to tell me the news — he would be switching her chemo regimen because it wasn't as effective as he would have liked. He found after studying her genetic markers she had myeloma with a 17p chromosome deletion. I hated that I already know what this meant. The 17p deletion would be much, much harder for her body to fight the disease and put her in the high-risk category. I knew then we couldn't take any chances. It was time to get Mom a second opinion from Princess Margaret Hospital (PMH), Toronto's world-renown cancer centre.
Unlike the US, if you want a second opinion in Canada you either have to A) receive a referral from your primary oncologist and wait for an approval or B) be fortunate enough to know someone who works within the Canadian medical system who can help you navigate it. Thankfully, Mom had a friend within the system who helped guide me in finding her the best care. After two weeks of paperwork, file gathering and one rejected second opinion application we were finally approved to see the top myeloma specialist in Canada.
Prior to our appointment at Princess Margaret Hospital, Mom began a new regimen: Revlimid (lenalidomide) Dexamethasone and Velcade known as RVD. The regimen proved to be quite effective and by the time Mom had her first consult at PMH in December, her myeloma was responding well. It was the best Christmas gift my brother and I could have asked for. When we went for a second follow up in January of 2018, the myeloma specialist at PMH told my Mom her cancer had 'all but melted away.' Her light-chain markers were basically 0. We were elated! She was in a partial remission and because of this was a candidate for the autologous stem cell transplant.
The catch? She would have to continue responding to treatment until the first available collection date: April 9th 2018. We were assured by the team at PMH that this would be likely and that Mom should place her focus on continuing to learn to walk. We breathed a sigh of relief. Things were moving in the right direction, Mom was getting better and we were focusing on getting stronger for transplant.
Photo: Mom during the time of her partial remission, with her new haircut. (January 2018)
I was in an über on my way home from a work trip in February when my phone rang, it was Mom. I picked it up, she was breathless and her voice quivered.
"It came back," she said.
"What!?" I gasped.
"The cancer. It came came back. The chemo isn't working anymore."
The tricky and terrible thing about myeloma is that treatment often works until it doesn't. The disease is highly intelligent, willing to survive at all costs and becomes resistant to chemotherapy very quickly. This phenomena exacerbated if you have high-risk disease.
"I'll be right there," I said.
I rushed to the hospital, and was thankfully there in time to catch Mom's oncologist. He told me he would be starting her on a regimen of Kyprolis (Carfilzomib), Dexamethazone and Revlimid and was confident it would bring her light-chain protein down again. As per my research, I was familiar with the drug and regimen as it was the logical next step for refractory disease and shown to have a high success rate. We trusted him, there was still hope for her. In our mind, this was a minor setback.
Two weeks later, I received a call that would change my life forever.
"Hi Francesca, it's your mother's oncologist from Trillium"
"Yes?" I replied
"Normally, I hate having these conversations over the phone, but you usually come visit Mom after work and I'll be in the clinic bu then. I wanted to let you know that Mom isn't responding to her treatment all that well. In fact, her light-chain levels have risen."
"Wha- what does this mean?" I demanded, shaking.
"She probably only has a few months to live, and she will not be eligible for transplant. Other than 4th line therapy there isn't anything more we can offer her. I'm sor—"
I hung up the phone. I don't even let him finish. I grabbed my car keys and left work immediately to be with Mom. I held her and told her to not give up hope. She was crying, numb and terrified. I remembered we had had yet another consultation at Princess Margaret Hospital coming up, the following week. I hope they would have something that would be able to help her: another drug, a new regimen, even a clinical trial. We couldn't just give up on her.
A week to the day, we were back at PMH. I kept Mom positive and laughing before her appointment, treating her to her favourite hospital snack (plain potato chips) while she did her blood-work. We were accompanied by a few family friends this time for support.
As we waited in the exam room, I made an excuse that I had to use the washroom. I ran through the halls to try and find the myeloma specialist. I spotted her at the end of the hall and ran over to her. I begged her to spare my Mom bad news if that was what she was going to deliver — and it was. Then came my frantic foray of desperate questions, all of my research came pouring out of me: I asked if there were any clinical trials she would qualify for, the answer was no. I asked if I should take my Mom to the US, and the answer was no. It would be a waste of time and money. I asked about possibility of a transplant, the answer was no and that it would be biologically impossible. "No" meant the end.
I collapsed to the floor, heaving. I ran to the bathroom and was sick. When I finally collected myself I went back into the exam room where Mom and our support team were waiting. Already knowing the outcome of the visit, it felt like I had a horrific dark secret inside of me and that everyone could see through my terrified expression. I couldn't breathe. The specialist entered the room.
After she delivered the news, Mom immediately exclaimed: "but I don't have a husband, I have to be here for my two children!" The specialist shook her head. She kindly told her not to give up hope, as it is the most powerful tool she had. She told us she would make a recommendation for Mom to receive pomalidomide and then be placed in palliative care. She had but weeks to live.
We left the room quietly, and in disbelief. The treatment plans were followed, I had taken her to the best cancer centre in Canada, we had done everything right. This couldn't be happening. I couldn't lose my Mom, especially not so soon after losing my dad. They couldn't just give up on her. We were in shock.
After I got home from the hospital that night, myself, our family friends and my boyfriends aunt began researching hospitals and doctors in the US. We refused to sit down and wait for the inevitable. We didn't want to give up on Mom, even though the Canadian system had. As were were searching, our family friend asked me if I was familiar with the website myelomesurvival.com, and I was. It was the very site is where I first began much of my myeloma research. She encouraged me to send an email to the editor of the site, Gary. I was hesitant and said I would think about it.
The next day, in a moment of desperation I wrote the following:
Hello Gary,
Firstly, I would like to commend you for channeling your myeloma journey into resource that has helped both myself and my family during my Mom's battle with MM. She was diagnosed in September 2017 with high risk MM, there have been highs and lows with her treatment but we've since reached a very big low. She's been seen by Dr. X at Princess Margaret Hospital in Toronto and we have been told there isn't much more they can do in terms of care for her. They will be putting her on pomalidomide and then we have to have conversations around palliative treatment.
I refuse to take this as the end, and have been furiously looking into options in the US (Mayo Clinic, MD Anderson, John Hopkins, Cleveland Clinic, Sloan-Kettering and Dana Faber). Her energy levels are fantastic all things considered, she is actively undergoing physio treatment (for the spinal compression her MM caused) and she has a strong will to live.
Any and all advice is much appreciated at this point.
With love from Canada,
Francesca
Within about 30 minutes of sending the email, my phone vibrated. It was a response from Gary. In his note, he had connected me to several myeloma specialists and a SparkCures; a company that connects myeloma patients to clinical trials. He told me if the specialists had something they could offer, they would reach out to me directly.
Dr. Bart Barlogie of The Mount Sinai Hospital in Manhattan, New York was the first to respond. Other specialists followed, chiming in with their suggestions. Each response confirmed what I had felt all along; that there was more that could be done for Mom. Serendipitously, I had tentative plans to head to NYC that weekend with my boyfriend for a concert, but had placed finalizing the trip due to the news we had received. As I went through the emails from the specialists that I received I saw that Dr. Barlogie was located in New York. I boldly asked him to meet with me. A requested to which he agreed.
I knew I had my work cut out for me. I spent the next day at the hospital gathering all of Mom's files from her time at the hospital, booked a last minute bus ticket, threw clothes in a bag and headed to New York with my boyfriend. We called our trip, "Operation: Save Maria."
We met Dr. Barlogie on St. Patricks Day, the sky was clear, the weather was crisp and sunny. Walking to the TISCH Cancer Institute building, my mind kept racing: What if he couldn't help her after all? What if he looks at the files and thinks her disease is too far gone? We took the elevator to the 3rd floor, walked through the desolate waiting area and into his office.
I'll never forget the moment I met him. His eyes were warm and kind, and he had a soft smile. There was a humility about him and a comforting energy unlike I had ever sensed from any of the doctors we encountered on Mom's journey. I handed him her file, and was rambling something about how bad the situation seemed on paper. He took one look at her file, put the pile of papers down and said simply after a moment, "This case has been mismanaged. I can help her but you need to get her down here ASAP." He then asked me for my cell phone. He wanted to speak to my Mom directly.
"Maria," he said.
"Yes?"
"Get you're ass down here, darling. Now. I'm going to save your life. You don't have much time."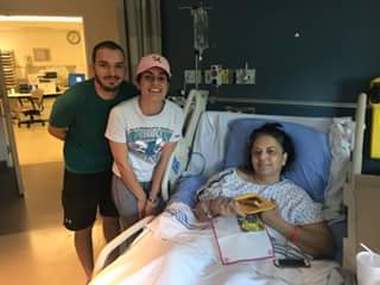 With Mom at Mt. Sinai
A week to the day, after many a debate with Mom's oncology team in Canada and a call to a private ambulance, Mom and I drove 11 hours in the middle of the night to New York City fuelled by a diet of hope and prayer. When we arrived at The Mount Sinai Hospital, I knew we were home. Moments after was she was admitted, the attending team went right to work testing Mom in an effort to establish a new baseline. Later that evening Mom met Dr. Barlogie for the first time. She sobbed, held his hand and thanked him for giving her a renewed sense of hope.
I left everything in behind in an instant to be in New York with my Mom. I've always been somewhat of a dreamer, but I was an informed one. I had complete and utter faith in Dr. Barlogie and the team at Mount Sinai. For the first time in her journey, we finally felt safe and a sense of calm. The team at Mount Sinai quickly became a part of our extended family; the attending physicians, physician's assistants, nurses, admin staff and personal support workers embraced us all with open arms. After hearing our story and what we had been through, they became as dedicated as we were to Maria's myeloma journey.
Mom's treatment began with METRO-28, a 28 day 24 hour infusion which was then switched to a different IV regimen. Dr. Barlogie would change Mom's treatment plan weekly or even by the day if he needed to. He knew the disease so well that he tailored his regimens to Maria and her mutation. Some of the treatments we received were: Daratumamab (Darzalex), Thalidomide, Venetoclax, Carflizomib, Velcade, Dexamethasone and Viracept used in different combinations and in various dosing structures.
As each treatment was introduced, I couldn't help but wonder: were these drugs available in Canada?
The answer was and is: yes, but we were never offered them. In Canada, as much as our healthcare is free, we are limited in our treatment plans due to government funding. Newer treatments and personalized medicine are far too costly for a public system, and patients must meet specific criteria in order to receive certain medications. I have to do more research on this specifically, but this is my vague understanding.
Day in and out, I was by my Mom's bedside for 12-14 hours a day. It always felt like there were 3 people in that room: myself, mom and our unwanted guest, the myeloma. As the weeks passed we had family and friends visit from home which needed. At times we were very, very homesick.

The course of treatment at Mount Sinai was as you'd expect: up and down. Some regimens worked, some barely made a dent in her light-chains. But still, even with the ups and downs, Dr. Barlogie never gave up hope. He adjusted the combination of medications meticulously until he found the right combination for her.
Chemo never comes without it's fair share of discomfort, and through every side effect, success and setback, Mom was brave and took each event with a level of grace I'll never understand. Her perseverance and will to live inspired me to keep showing up each day for her, and in turn I was blessed to watch her progress and the opportunity learn from her bravery.
In mid-May we received the exciting news that Mom would begin VDT-PACE, an intensive 1-week regimen that would destroy the remaining myeloma in order to move to stem cell collection. We were so close. After VDT-PACE was complete, Mom's collection began shortly after. During that time, she suffered severe low blood pressure which delayed her collection, well as low CD34 levels which made it hard for her body to grow healthy stem cells and countless chemo side effects. Still, she persevered as did Dr. Barlogie. We were thankful doing what was said to be 'biologically impossible,' she was moving to transplant.

On June 26th, 2018 Maria received the first of her cells after 3 rounds of Melphalan (high dose chemotherapy). I remember walking into our unit, 11 Centre, and feeling elated. So many of the nurses came to gave me a hug and high five me, "Todays the day!" they would exclaim. I felt like life was going to go back to see type of normal. After 3 and a half months of non-stop chemo, Mom was finally getting her cells. After the cells grew, we could go home. This day was one of the happiest days of both of our lives. Mom and I cried, prayed, and laughed and joked around. We were so, so close to being able to go home. We had done what others said we couldn't do because Dr. Barlogie believed in her. In us.
The night of the 26th, my Mom began hallucinating. The attending team chalked it up to a combination of heavy pre-medication prior to the stem cell infusion (Benadryl and Claritin) as well as an Ativan she took before bed because she was feeling anxious. They kept a close eye on her. The confusion persisted.
That Thursday, after I had gone back to my apartment I was called back into the hospital just I was getting into bed. The resident was worried Mom had suffered a stroke. Her confusion, hallucinations and disorientation had become more severe and was cause for concern. A CT scan conducted later in the evening came back clear. I was thankful and relieved, and even though she couldn't really understand me, kept telling Mom she would be okay. She had just received her new cells, and hiccups were something we were used to. I had continued faith all would be well.
On Sunday morning I came to the hospital to find my Mom completely unresponsive, like a TV on pause: eyes open, staring into space grunting and twitching. I called my brother, her sister and my boyfriend and told them to come back to New York as soon as they could. I knew my mom so well after spending so much time with her on her journey and in my gut, I knew this was serious. I couldn't go through this part of her journey alone. An MRI later in the day revealed swelling around the brain; meningitis. The team began speculating as to what could be causing the inflammation. None of the speculations made us feel any sort of comfort. It could be infection, a viruses a bacteria or worst of all: the myeloma. We were terrified.
A spinal tap was ordered and revealed high levels of CMV in Mom's cerebral spinal fluid. CMV is a virus that can infect almost anyone. In a healthy person, it isn't cause for concern but in an immune compromised person like my Mom or any cancer patient, it can be deadly. She was started on an antiviral drug right away. She remained unconscious.
On the way to the hospital on the Thursday of the following week, I was called by a doctor from the rapid response team asking for permission to intubate my Mom. She was still unconscious and was struggling to breathe on her own. I choked back tears and told them to proceed with what they had to do. Like any patient, once intubation occurs, she would have to stay in the Intensive Care Unit (ICU). I couldn't believe it. Only a week ago we were celebrating the start of Maria's new life, now we were fighting for it. Again.
After the attending doctors in the ICU completed her evaluation, they pulled me aside. Her prognosis was not good. In fact it was dire. Anything that could go wrong, had gone wrong. Her immune system was compromised, her mental state was compromised, her kidneys had failed. For lack of a better term: she was a mess. Still, we pressed on with dialysis, with blood pressure medication, with anti-virals. I refused to give up hope, and Dr. Barlogie was refused to give up hope with me.
No one should ever have to see a member of their family in the ICU, it is a simultaneously frightening and intriguing place. The rooms are all open, there's a flurry of doctors, nurses and specialists running back and forth. The level of care Mom received there was unlike anything I had ever seen. But most prominent are the alarms of the machines. Even as I type this still hear each distinct pitch of the alarms in my head. My time there hasn't left me, and I don't think it ever will.
Exactly a week later, Mom's heart could no longer sustain a blood pressure on it's own. I was called at 11pm after I had gone back to my apartment to come back to the ICU. The resident told me she was 'considerably sicker' and that they were worried she wouldn't survive the night. My boyfriend, his Mom and I waiting painstakingly as updates were relayed to us. We watched as she received medication after medication, blood product after blood product, her nurse working furiously to make sure every last drop of support went into her body. At around 7am, she stabilized and we went home to take a nap only to return a few hours later. Even though she wasn't conscious, I didn't wan her to be alone; I didn't want her to be afraid.
Delirious, exhausted and scared, I called Dr. Barlogie and updated him on the events of the night. He came to the ICU a few hours later. After speaking with the attending doctor, he pulled me aside, looked at me with his calm, blue but now sad eyes and said, "Darling, you know me. You know I'm aggressive with my treatment. But I'm also equally as aggressive as to when it's time to stop." After speaking with the attending physician he agreed with her that the best course of action would be to discontinue all medication and let Mom pass peacefully.
My heart sank. The man who held out hope for my Mom, who always had a trick up his sleeve when the odds seemed impossible, who kept us pushing forward, was now looking at me telling me this was this end. There would be no coming back from this for Mom. I was shaken, numb, frozen in the moment. I couldn't bear this. In typical Dr. Barlogie fashion, he held my Mom's hand, said a few words to her and kissed her on the forehead before leaving her for the last time. I sobbed.
That evening, although she was already the maximum dose of 3 different blood pressure medications, Mom's pressure began to drop. A sign that the attending doctor had told me to watch for. To keep her on all the medication she was on, would be unfair and painful for her. I knew what I had to do, but couldn't stomach removing it so crudely all at once. I asked the evening resident to slowly titrate my Mom's medication away until there was nothing left.
On Friday July 13th, 2018 at 9:41 pm surrounded by myself, our family friend and my boyfriends Mom. My Mom, Maria Filomena Palermo-Saraco passed away peacefully and surrounded by love. In that moment, she joined my Dad on their infinite spiritual journey. No more needles, biopsies, or setbacks. She was finally free.
There are so many people to thank for their support, and I have made a point to let them know in person how much they mean to me. No one ever goes through a cancer journey alone. We could have never given my Mom the chance and extra time she had with us without Gary and this site. I cannot emphasize the importance of a second, and even third opinion enough when it comes to myeloma. We often cannot control what happens to us in life, but what we can control is our reaction and how we take action. Both Mom and I refused to be passive players in an extremely difficult, trying and unfair situation. What I didn't know could have killed her. I'm thankful for all the resources, connections, my partner, family and friends for the encouragement to keep fighting.
While in the hospital, Mom and I talked at length about giving back to the myeloma community through advocacy work. She was so excited to come back to Toronto to fight for drug access, treatment options and patient support for myeloma. Although she's no longer here, a reality that I cannot fully accept or understand just yet, I will continue advocacy work on her behalf and in her memory. It is my hope that Maria's journey brings some comfort, inspiration and strength to you, or someone you know who is faced with an impossible situaiton to take charge, and not settle for anything but the best. There is always a light in the darkness, and even it it appears the light has been snuffed, within us is inextinguishable spark.
I love you forever, Mom.